RKT

Performance Drivetrain Parts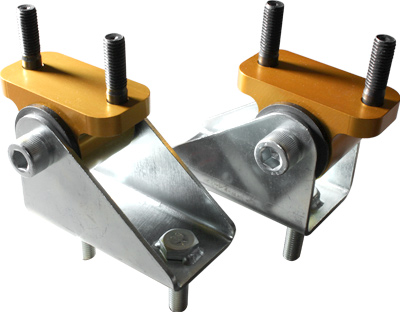 C5 Corvette Offset Transmission Mounts
Replacing the stock C5 driveline with an upgraded C6 or C6 Z06 driveline is becoming a common practice. These machined aluminum mounts will enable you install any C6 transmission and differential into your C5, providing long-lasting performance and reliability.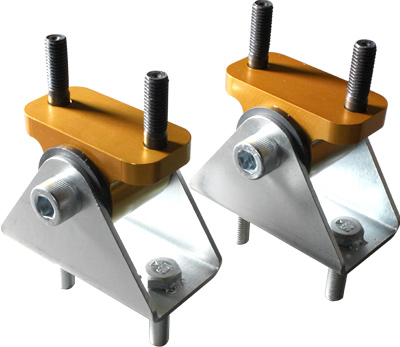 C6 Corvette Differential Mounts
RKT Performance's machined aluminum Corvette differential mounts are designed specifically to reduce deflection and differential rocking motions. This means that your application will experience less drivetrain power reduction, effectively pushing more power to the street.
Drivetrain Performance Upgrade Options
Select Your Vehicle
2014 - 2019 C7 Corvette
Performance Transmission Upgrade
Hot tank/bead blast/tumble polish case
Bronze fork pads for 1-6
Hand fit sliders and hubs
Assembled to RKT specs
New ZR1 pick up tube
New hybrid/carbon blocking rings set (1-4)
New shim set
New snap rings
New gasket
New seals
$2,300.00 parts and labor
Additional Transmission Options
$300 - New bearing set
Call for pricing - New gears (each)
Call for pricing - New sliders
Call for pricing - New 4th gear (input shaft)
Call for pricing - New blocking ring set
Call for pricing - Change TR6060 ratios to MZ6 (new gears 1-4/bearings)
Call for pricing - Change TR6060 ratios to MH3 (new gears 1-6/bearings)
Performance Differential Upgrade
Please call us for C7 Corvette differential upgrade options.
2006 - 2013 Z06 Differential
Performance Differential Upgrade
Hot tank/bead blast/tumble polish case
Set shims/backlash
Assembled to RKT specs
New shim set
New Motive micro polished gear set (3.90, 4.10)
$2,150.00 parts and labor
Additional Differential Options
$750 - New 500m short/long shaft with gear
$400 - New carbon clutch packs and springs
$550 - Molybdenum-Ceramic Clutch packs with springs
$400 - New C6 Z06 pinion carrier with upgraded bolts
$150 - New seal kit
$200 - New spider gears w/ washers
$250 - New side carrier bearings/races
Call for pricing - Wavetrac
Call for pricing - Differential cores
2008 - 2013 C6 Corvette
Performance Transmission Upgrade
Hot tank/bead blast/tumble polish case
Bronze fork pads for 1-6
Hand fit sliders and hubs
Assembled to RKT specs
New ZR1 pick up tube
New hybrid/carbon blocking rings set (1-4)
New shim set
New snap rings
New gasket
New seals
$2,300.00 parts and labor
Additional Transmission Options
$300 - All new bearings
Call for pricing - New gears (each)
Call for pricing - New sliders
Call for pricing - New 4th gear (input shaft)
Call for pricing - New blocking ring set
Call for pricing - Change TR6060 ratios to MZ6 (new gears 1-4/bearings)
Call for pricing - Change TR6060 ratios to MH3 (new gears 1-6/bearings)
Performance Differential Upgrade
Hot tank/bead blast/tumble polish case
Set shims/backlash
Assembly to RKT specs
New shim set
New Motive micro polished gear set (3.42, 3.73, 3.90, 4.10)
$1,600.00 parts and labor
Additional Differential Options
$450 - Machine pinion gear to 30 spline to match trans output shaft
$750 - New 500M short/long shaft with gear
$400 - New C6 Z06 left, right shafts with gear
$500 - New C6 ZR1 shafts with gear
$400 - New carbon clutch packs and springs
$550 - Molybdenum-Ceramic Clutch packs with springs
$400 - New C6 Z06 pinion carrier with upgraded bolts
$150 - New seal kit
$200 - New spider gears w/ washers
$250 - New side carrier bearings/races
Call for price - Diff cores
2005 - 2007 C6 Corvette
Performance Transmission Upgrade
Hot tank/bead blast/tumble polish case
Solid keys for 3-4
Solid keys for 5-6
Bronze fork pads for 1-6 and reverse
New Carbon blocking ring set
Hand fit sliders and hubs
Assembled to RKT specs
New shim set
New snap rings
New gasket
New seals
$2,400.00 parts and labor
Additional Transmission Options
Call for pricing - New 30 splined main output shaft (must re-spline pinion gear to match)
$1,000 - New 30 splined 9310 main out put shaft (must re-spline pinion gear to match)
Call for pricing - New 4th gear (input shaft) with new bearing
Call for pricing - New sliders (each)
Call for pricing - C6 Z06 mechanical pump set up for road course
$300 - All new bearings
$300 - Machine to accept C6 ZR1 pick up tube
Call for pricing - New gears (each)
$100 - Modified 1-2 shift fork
Performance Differential Upgrade
Hot tank/bead blast/tumble polish case
Set shims/backlash
Assembly to RKT specs
New shim set
New Motive micro polished gear set (3.42, 3.73, 3.90, 4.10)
$1,600.00 parts and labor
Additional Differential Options
$450 - Machine pinion gear to 30 spline to match trans output shaft
$750 - New 500M short/long shaft with gear
$400 - New C6 Z06 left, right shafts with gear
$500 - New C6 ZR1 shafts with gear
$400 - New carbon clutch packs and springs
$550 - Molybdenum-Ceramic Clutch packs with springs
$400 - New C6 Z06 pinion carrier with upgraded bolts
$150 - New seal kit
$200 - New spider gears w/ washers
$250 - New side carrier bearings/races
Call for price - Diff cores
1997 - 2004 C5 Corvette
Performance Transmission Upgrade
Hot tank/bead blast/tumble polish case
Solid keys for 3-4
Solid keys for 5-6
Bronze fork pads for 1-6 and reverse
New Carbon blocking ring set
Steel 3-4 shifter fork
Hand fit sliders and hubs
Assembled to RKT specs
New shim set
New snap rings
New seals
$2,350.00 parts and labor
Additional Transmission Options
Call for pricing - New 30 splined main out put shaft (must re-spline pinion gear to match)
$300 - All new bearings
Call for pricing - New gears (each)
Call for pricing - New sliders (each)
Call for pricing - New 4th gear (input shaft) with bearing
$100 - Modified 1-2 shift fork
Call for pricing - C6 Z06 mechanical pump set up for road course
TR6060 Retrofit Package
Choice of 2.66 (Z06) or 2.97 (Grand Sport) ratio
2.29 (ZR1) option at additional cost
27 spline for direct bolt-in or 30 spline option
Custom overdrive options
Call for price
Performance Differential Upgrade
Hot tank/bead blast/tumble polish case
Set shims/backlash
Assembly to RKT specs
New shim set
New Motive micro polished gear set (3.42, 3.73, 3.90, 4.10)
$1,600.00 parts and labor
Additional Differential Options
$450 - Machine pinion gear to 30 spline to match trans output shaft
$750 - New 500M long/short shaft with gear
$400 - New C6 Z06 left, right shafts with gear
$500 - New C6 ZR1 shafts with gear
$400 - New carbon clutch packs and springs
$550 - Molybdenum-Ceramic Clutch packs with springs
$400 - New C6 Z06 pinion carrier with upgraded bolts
$150 - New seal kit
$200 - New spider gears w/ washers
$250 - New side carrier bearings/races
2010 - Current Camaro
Performance Transmission Upgrade
Hot tank/bead blast/tumble polish case
Bronze fork pads for 1-6
Hand fit sliders and hubs
Assembled to RKT specs
New carbon/hybrid blocking ring set (1-4)
New ZR1 pick up tube
New shim set
New snap rings
New seals
$2,350.00 parts and labor
Additional Transmission Options
$300 - New bearing set
Call for pricing - New gears (each)
Call for pricing - New sliders
Call for pricing - New 4th gear (input shaft) with Timken bearing
Call for pricing - New 9310 main shaft with rear support bearings
1993 - 2002 Camaro/Firebird
Performance Transmission Upgrade
Hot tank/bead blast/tumble polish case
Solid keys for 1-2
Solid keys for 3-4
Solid keys for 5-6
Bronze fork pads for 1-6 and reverse
Steel 3-4 shifter fork
New Carbon blocking ring set
Hand fit sliders and hubs
Assembled to RKT specs
New shim set
New snap rings
New seals
$2,050.00 parts and labor
Additional Transmission Options
$1,500 - Viper spec 30splined output shaft conversion
Call for price - New 30 splined 9310 main out put shaft (must change to triple/double cone)
$300 - All new bearings
Call for pricing - New gears (each)
Call for pricing - New sliders (each)
Call for pricing - New 4th gear (input shaft)
$100 - Modified 1-2 shift fork
2003 - 2004 Mustang Cobra
Performance Transmission Upgrade
Hot tank/bead blast/tumble polish case
Solid keys for 1-2
Solid keys for 3-4
Solid keys for 5-6
Bronze fork pads for 1-6 and reverse
New Carbon blocking ring set
Hand fit sliders and hubs
Assembled to RKT specs
New shim set
New snap rings
New seals
$2,050.00 parts and labor
Additional Transmission Options
$300 - All new bearings
Call for pricing - New gears (each)
Call for pricing - New sliders (each)
Call for pricing - New 4th gear (input shaft)
$460 - New 26-spline input shaft
$100 - Modified 1-2 shift fork
2004 - 2006 GTO
Performance Transmission Upgrade
Hot tank/bead blast/tumble polish case
Solid keys for 3-4
Solid keys for 5-6
Bronze fork pads for 1-6 and reverse
New Carbon blocking ring set
Steel 3-4 shifter fork
Hand fit sliders and hubs
Assembled to RKT specs
New shim set
New snap rings
New seals
$2,350.00 parts and labor
Additional Transmission Options
$1,500 - New 30 splined 9310 main out put shaft conversion
$300 - All new bearings
Call for pricing - New gears (each)
Call for pricing - New sliders (each)
Call for pricing - New 4th gear (input shaft) with new bearing
$100 - Modified 1-2 shift fork
2004 - 2007 CTS-V
Performance Transmission Upgrade
Hot tank/bead blast/tumble polish case
Solid keys for 3-4
Solid keys for 5-6
Bronze fork pads for 1-6 and reverse
New Carbon blocking ring set
Steel 3-4 shifter fork
Hand fit sliders and hubs
Assembled to RKT specs
New shim set
New snap rings
New seals
$2,350.00 parts and labor
Additional Transmission Options
$300 - All new bearings
Call for pricing - New gears (each)
Call for pricing - New sliders (each)
Call for pricing - New 4th gear (input shaft) with new bearing
$100 - Modified 1-2 shift fork